FUN THINGS TO DO
It's all happening in Northern Colorado!
Fort Collins | Loveland | Greeley | Windsor | Johnstown | Estes Park

Winter Farmer's Market ~ Greeley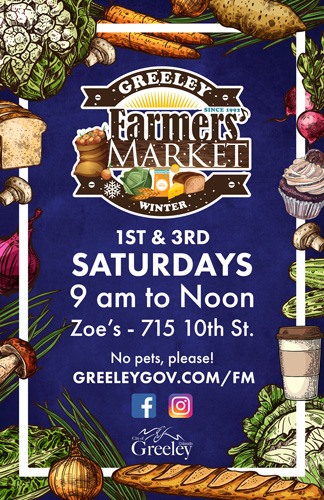 November 2 & 16, 2019
Location: Zoe's Cafe & Events
Website: greeleygov.com
The eighth annual Winter Farmers' Market in Greeley opens on November 2. Come to Winter Market at Zoe's Café and Events located at 715 10th Street. Shop in a fun atmosphere and support local farmers and vendors.
The Winter Farmers' Market is open November through April during the first and third Saturdays of the month.
This season features a great lineup of vendors. Enjoy hardy root crops, winter squash, greenhouse-grown produce, locally raised meat, fresh bread, coffee, honey, savory spices, and more! In addition, special performances, activities, and events occur during the season.
Thanksgiving Lunch ~ Greeley
November 15, 2019
Time: 12:00 PM – 1:30 PM
Location: Greeley Active Adult Center
Website: greeleycalendar.com
Can't you just taste the traditional Thanksgiving meal already? Enjoy food, friendship, fun and entertainment.
Greeley Lights the Night Parade ~ Greeley
November 30, 2019
Location: Starts at 9th Avenue and 15th Street and ends at Lincoln Park
Website: greeleycalendar.com
Join the Greeley Chamber of Commerce/Visit Greeley for our community's official holiday kick-off at 5:30 p.m. on Saturday, November 30. Lighted holiday parade kicks off the Christmas season in Downtown Greeley. After over 70+ lighted parade entries make their way to downtown Greeley on 9th Avenue, the City of Greeley lights up Lincoln Park.

Night on the Town ~ Loveland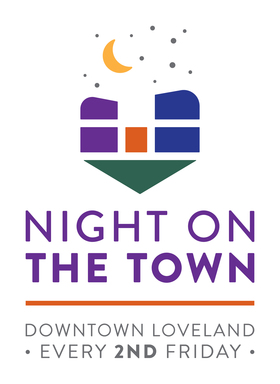 November 8, 2019
Time: 5:00 PM – 9:00 PM
Website: visitlovelandco.org
Night on the Town is Downtown Loveland's "night out" with many art galleries and businesses offering a ready welcome from 5 pm to 9 pm. There's plenty of fine and casual dining, craft beer tasting rooms and retail shops to enjoy. You'll find snacks, live music and sales in multiple locations, all part of an inviting atmosphere and hearty welcome from downtown businesses. It's an opportunity to spend an evening with friends in our downtown.
The Loveland Museum/Gallery remains open on the second Friday of each month from 5 – 9 pm, offering free special events, lectures, and activities as well as free admission to the main gallery exhibits.
Notice as you stroll along 4th Street between Jefferson Avenue and Garfield Avenue there are sculptures (which change annually) that are part of the City of Loveland's "The Art Advocacy Project" known as TAAP for short. It's an easy-to-enjoy outdoor art exhibit!
Night on the Town activities change season to season, so there might be pop-up sales, sidewalk art or pedicabs in summer, or horse carriage rides, hot chocolate or the annual Festival of Lights in winter. Retailers and restaurants may run Night on the Town specials, art galleries have special exhibits and in general, you'll find people strolling 4th Street and often there is music in the air.
Winter Wonderlights ~ Loveland
November 15, 2019 – January 1, 2020
Location: Chapungu Sculpture Park
Website: visitlovelandco.org
Each night visitors can walk through the beautiful park and enjoy holiday string lights, twinkling bulbs, LED mappable snowflakes, illuminated African stone sculptures and 30-minute music and light shows every night. The light and music show features six total songs and moving lights on the 20 foot tall LED mappable Christmas Tree.
The magical light show will run each night Nov. 15 – Jan. 1, every 30 minutes from 5:00 – 9:00 PM except on performance nights. Performance nights will be scheduled later this year.
The event is free and open to the public. However, either canned food to benefit the Larimer County Food Bank or an unwrapped toy to benefit Santa Cops is requested.
Be sure to check the event webpage for updated information including performance schedules, vendor information and more.
Downtown Festival of Lights ~ Loveland
November 22, 2019
Time: 6:00 PM – 9:00 PM
Location: Downtown – 4th Street & Lincoln
Website: visitlovelandco.org
Come out to the free family friendly festival with a tree lighting ceremony in front of the Rialto. The event includes: Traditional Hometown Holiday Festival | Holiday music and activities | Santa and Mrs. Claus | Kids Area and performance stage with Princess Shows, and Holiday Characters | Holiday Spirits Beer Garden | Horse drawn Carriage rides | Local Food Vendors | Local Shops and Restaurants

Downtown Lighting Ceremony ~ Fort Collins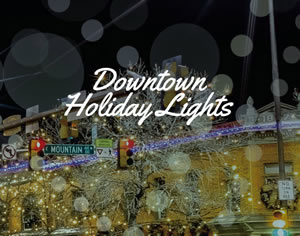 November 1, 2019
Time: 5:30 PM – 7:00 PM. The Lights come on at 6:30pm sharp!
Location: Old Town Square
Website: downtownfortcollins.com
On Friday, November 1st, the iconic Downtown Holiday Lights will "flip on" during the annual Downtown Holiday Lighting Ceremony! Every evening from Friday, November 1st through Valentine's Day on February 14th, 22 block-faces of Downtown will be illuminated with thousands of strands of brilliant white lights stretching through the alleyways, sidewalks and tree-tops of historic Old Town Fort Collins. The dazzling display of low energy and sustainable LED lights can be enjoyed anywhere along College Avenue, the northern boundary of Laporte Avenue and continuing south to Magnolia Street. Trees will be lit along Walnut Street, Linden Street, Pine Street, Old Town Square, Oak Street Plaza, and Mountain Avenue.
Winter Farmers Market ~ Fort Collins
November 16 & 23, 2019
Time: 9:00 AM – 1:00 PM
Location: The Masonic Temple (225 W. Oak Street)
Website: https://www.facebook.com/pg/focowintermarket/about/
The Fort Collins Winter Farmers Market is in its 13th year promoting and providing access to locally grown and made food. The Winter Market will be held at two locations this season (2019-20). All markets are Saturdays from 9am – 1pm except the two holiday markets in December are 9am – 2pm.
Santa Arrives Downtown ~ Fort Collins
November 27, 2019
Location: Old Town Square
Website: downtownfortcollins.com
Santa Claus will arrive to his Holiday Workshop in Old Town Square at noon on November 27th! The community is invited to celebrate his arrival by gathering in Old Town Square to greet Santa as he arrives via horse-drawn carriage with his musical elves!
After Santa's arrival, jolly old Saint Nick will be available in his holiday workshop until 6pm.
Santa's Workshop is open to children of all ages and their families and is completely free to the public. View the link below to check out hours and other details for Santa's Workshop this holiday season!

First Friday @ Art Heritage Center ~ Windsor-Severance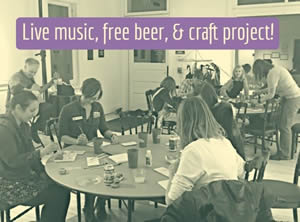 November 1, 2019
Time: 6:00 PM - 8:00 PM
Website: windsorgov.com
Join us at the Art & Heritage Center on the first Friday of each month for this free family-friendly event! Come and check out our latest exhibition, hear live music from local musicians, and create art with your community. Free beer is provided courtesy of our sponsor, High Hops brewery.
Holiday Home Tour ~ Windsor-Severance
November 22-23, 2019
Time: Friday 2:00 PM to 7:00 PM; Saturday 10:00 AM to 3:00 PM
Location: Highland Meadows Neighborhood in Windsor
Website: voicescarrycac.org/events/holiday-home-tour/
As the 2019 holidays approach, get in the spirit at in the holiday spirit by touring beautiful homes in the Highland Meadows neighborhood in Windsor, Colorado. Each home will be decorated by top local designers and florists for this festive time of year. Celebrate the holiday season with friends as you get inspired by the festive decor and feel of each home as you receive unique access to lovely homes in northern Colorado.
Turkey Shootout Archery Competition ~ Windsor-Severance
November 23, 2019
Time: 12:00 PM - 4:00 PM
Location: Kodak Watchable Wildlife Archery Range
Website: windsorgov.com
Join us for a friendly target-shooting showdown. The competitor with the overall highest score for each age category will take home their own frozen turkey. GOBBLE, GOBBLE! Registration includes lunch (hot dogs / hamburgers, chips, and drink). Archery equipment will be available during the tournament for competitor use. Ages 8+

The Hunchback of Notre Dame ~ Johnstown-Milliken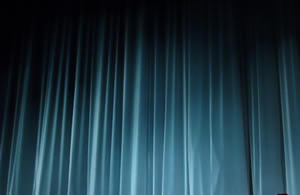 September 5 – November 17, 2019
Website: coloradocandlelight.com
The Hunchback of Notre Dame is a powerful musical retelling of the love story of the gypsy Esmeralda, the deformed bell-ringer Quasimodo, and the gallant Captain Phoebus in 15th Century Paris. Representing the first-ever collaboration between two stage and screen titans – composer Alan Menken (Beauty and the Beast, Newsies, The Little Mermaid, Aladdin) and lyricist Stephen Schwartz (Pippin, Godspell, Wicked) – Hunchback contains songs from Disney film, including "Out There", "Topsy Turvy" and "God Help the Outcasts", plus entirely new songs sure to surprise fans of the movie.
Teen Night! ~ Johnstown-Milliken
November 9, 2019
Time: 6:00 PM – 9:00 PM
Location: TRPR 320 Centennial Drive
Website: facebook.com
Are you ready for another night of fun and hanging with friends?! Attend an awesome TEEN NIGHT at the Milliken Athletic Complex. There will a DJ, Photo Booth, Food, hot chocolate bar, cookie decorating and more! 6-12 Grade. Grab some friends and join us!
Holiday Craft Event ~ Johnstown-Milliken
November 16-17, 2019
Time: 2:00 PM – 6:00 PM
Location: Pioneer Ridge – 2448 Rouen Ln, Johnstown, CO 80534
Many local talent small businesses! Refreshments provided. Baked goods, homemade gifts, chair massages offered and so much more!

Fall Back Beer Fest ~ Estes Park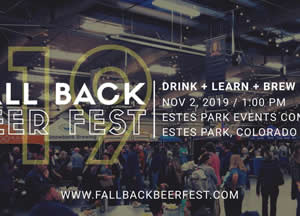 November 2, 2019
Time: 12:00 PM to 5:00 PM
Location: Estes Park Events Complex
Website: www.fallbackbeerfest.com
Get ready to turn the clocks back at Estes Park's craft beer event of the year!
Brewers from 30+ Colorado craft breweries pour UNLIMITED SAMPLES and talk all-things-brewing in the heart of the Rockies. Beer enthusiasts, from novice to expert, take part in live brewing demos, chat with hop farmers and yeast laboratories, and SO MUCH MORE!
Looking for truly unique beer? Check out the firkin tapping at 2:30 pm; it's always a crowd favorite!
Bubbly & Bulbs ~ Estes Park
November 13, 2019
Location: The Stanley Hotel
Website: visitestespark.com
Members of Estes Park Quota Club invite you to the display of beautifully decorated trees for their Parade of Trees in the lobby of The Stanley Hotel. The variety of trees is incredible as always. The kick-off event, Bubbly & Bulbs will be held on Wednesday, November 13 from 5-7 p.m. At the gathering there will be free appetizers and champagne available as you browse the tables of trees and purchase tickets to enter the drawing to win your favorite one!
Colorado Hot Springs ~ Fun Year Round!